This is provided for informational purposes only.

You do not need to know or understand what Australia Post Postage options are available to you when asking for a quote.

My job is to determine the most cost effective option for you based upon your requirements and expectations.
Send promotional mail in bulk with Promo Post. If you send large volumes of promotional mail, Promo Post offers you a cost-effective and straightforward way to send your articles in bulk.
Benefits
Engage your audience using an uncluttered channel.
Leverage the PreSort letters benefits of having your mail barcoded.
Lodge bulk mailings (within Australia) of 4,000 or more.
Access lower bulk mailing rates.
Weight, size and thickness requirements
Maximum weight of 125g
Minimum size of 88 x 138mm
Maximum size of 130 x 240mm
Maximum thickness of 5mm
Cost Analysis
The sweet spot for Regular Mail vs Promo Post is just over 3,000 recipients
Let's compare Presort Promo Post against Presort Regular and Priority Post so you can make an informed decision.
The sweet spot for Regular Mail vs Promo Post is just over 3,000 recipients. In other words, if you are going to be doing a mail out of around 3,000 recipients, in terms of postage, it's far more cost effect to increase your database to 4,000 recipients as you are going to be paying the same rate of postage if you just mailed to 3,000 recipients using Presort Regular Mail Postage. The only additional costs will be the materials, printing and inserting, which in economies of scale and depending on what you are sending, shouldn't add that much cost to your mail out, especially if there is an assigned ROI probability value for each recipient (i.e. Donor campaigns)
Essentially, if you are sending to 3,000 addresses, and your letter meets Promo Mail requirements (see below), sending to an additional 1,000 addresses will only cost around $100 in extra postage!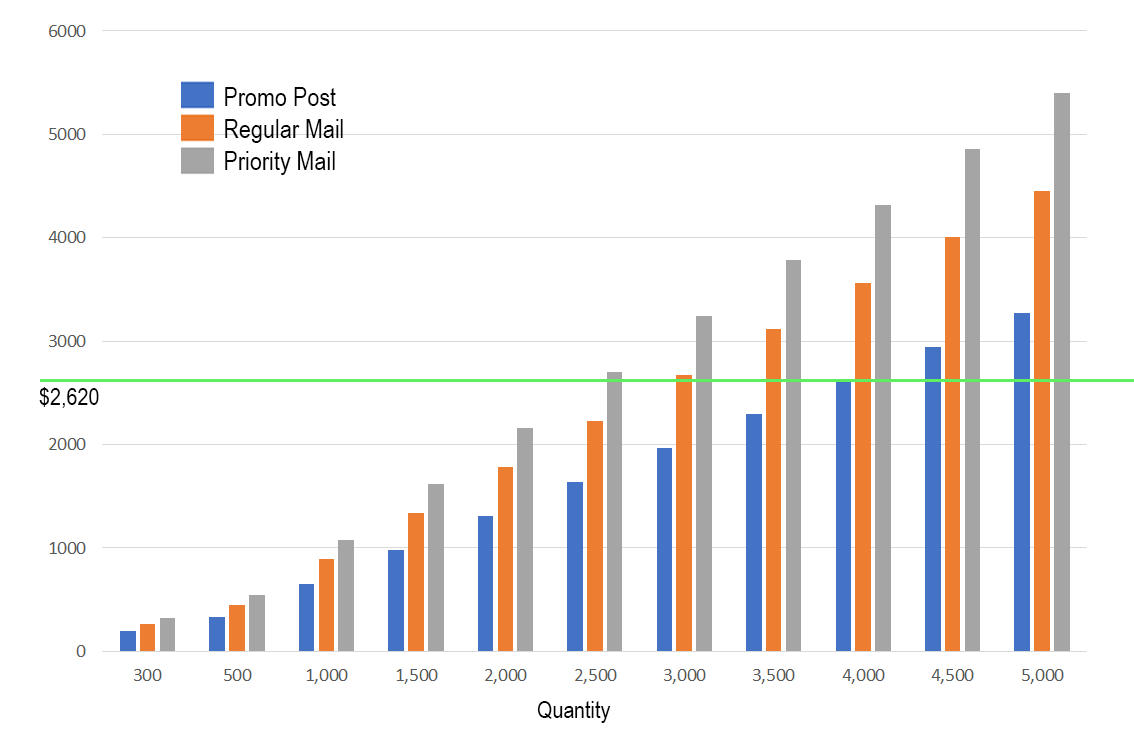 (Prices correct as at 15th June 2018.)
Okay sounds great, but what can I send as Promo Mail?
Easy! Here are some examples to get you thinking! (click on images to expand)
The full Australia Post Promo Post definitions table is available from the Australia Post website; linked here.
PreSort Regular & Priority
Requires a minimum of 300 letters to be eligible for this service. PreSort can save you up to .14c per letter in postage. Ideal for a one off or irregular mailouts from 300 to 100,000. Off Peak, Charity Mail and Registered Post services can be used in conjunction with the PreSort Letter Service.
PrintPost
For organisations that distribute large circulation periodicals lodged in the tens of thousands per week.Small associations with limited circulation for the distribution of newsletters and special interested publication (ie less than 1,000 articles per lodgement). Requires an application to be submitted to Australia Post for pre-approval.
Unaddressed Mail or UMS
Unaddressed Mail is mail delivered by Australia Post, which does not include a name or specific address for delivery. This mail can be enveloped, wrapped or unwrapped.Unaddressed Mail is a low-cost mail service. It is a business-to-customer, and business-to-business advertising medium, used to acquire new customers or to build store traffic. It is the ideal communication medium when you need to communicate with prospective customers, but do not have their name and address, or when you need to communicate with customers in a specific geographical area, at a low cost.Unaddressed Mail is an ideal way to establish your customer database, as a first step in creating direct mail.You can choose to post to a single suburb/town, multiple suburbs/towns or to all delivery points in a state, or across the country.
Acquisition Mail
Acquisition Mail is the non-personalised addressed bulk mail delivery service. It allows you to geographically target an addressed mail campaign to residential address points in specific postcodes, suburbs (localities) or Census Collection Districts (CCDs).Requires a minimum of 30,000 articles and approval by Australia Post prior to lodgement.
Charity Mail
Charity Mail – TBA
Return or Reply Paid Mail
Reply Paid – TBA
Letterbox or Leaflet Distribution
We can also organise letterbox drops or leaflet distribution to any part of Australia.