Envelope overprinting
Overprinted in black & white or full colour.
Most common sizes are 11B, DL, DLX, C5 & C4 envelopes.
Please contact us for other sizes.
Front of envelope overprinting only.
Please contact us if both sides of envelope for custom pricing.
Please select artwork files:
Your browser doesn't have Flash, Silverlight or HTML5 support.
Related Products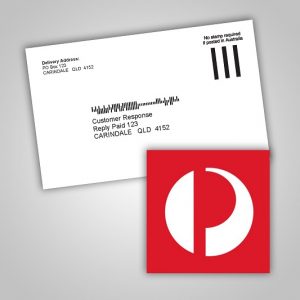 Australia Post Reply Paid Postage
Reply Paid Postage
Reply Paid makes it easy – and free – for your customers to reply to your communications.
As well as the Priority delivery, Reply Paid offers the option of a Regular delivery service, taking up to an additional two business days for delivery.
Benefits
Increase responses to your communications – when you enclose a Reply Paid envelope, your customers can respond quickly, easily and for free

Save time as there is no need to affix a stamp to envelope
Save on postage; pay only the on the envelopes that are returned
It's cheaper to use then regular mail stamps
How to use Reply Paid
You can use our Reply Paid service for:
Reply Paid Letters (Domestic) – enclose a Reply Paid envelope, postcard, coupon or self-mailer in 'Large' or 'Small' items sent within Australia
International Reply Paid Letters (IRP) – extend your marketing campaign overseas and get the same benefits with for 'Small' items under 50g
If you need a reply paid service for larger items, enquire about our Return Paid parcels service
What you can send
With Reply Paid, you can send 'Small' or 'Large' items
| | Small | Large |
| --- | --- | --- |
| Maximum weight | 125g (50g for IRP) | 500g |
| Minimum size | 90 x 145mm | N/A |
| Maximum size | 130 x 240mm | 260 x 360mm |
| Maximum thickness | 5mm | 20mm |
not rated