If we can just for a minute, suspend the sad reality that everyday, still thousands of people are losing family members, all over the world from this virus, we can take a step back and look at the effects on this business in particular.
Mental Health
Like most people, I like being busy, having work to do, feeling productive and providing a benefit to society, supporting businesses, large and small, everyday people like yourself, trying to make it work against all odds.
Just like you, when it's not busy, worry and anxiety sets in and then the doom and gloom thinking will surface. But that was in the past, these days, when I am not busy with work, I have a multitude of projects to distract me, most are time sinks and require new learning and doing things different. These help me remain focused.
Being an introvert, obviously self-isolating was not going to be difficult for me. Prior to the pandemic, I have been working by myself for over a decade, in a small production area without windows. Having no mode of transport other than the always improving Brisbane public transport system, and then having to be available to accept deliveries, it can be hard to get out and about anyway. Because of these circumstances, I have much experienced with isolation and know how to manage it well.
Financial
Thankfully, first impressions show January and March in the beginning of 2020 were better than the previous year of 2019 ( see first chart below ). This helped provide a small bucket to use for lease payments and business expenses. In April sales declined by 26% in April and 77% in May.
But if I compare monthly sales data to the monthly average, you can see that the effects of the pandemic actually began in March ( see second chart below ).
The third and last chart shows the businesses cash on hand projections until the end of the year. Even in the poorest of scenario's, it appears the business will survive and can keep moving forward at least for another twelve months but only with repeat business. After that, things will become quite difficult, maybe sooner if we see another black swan event.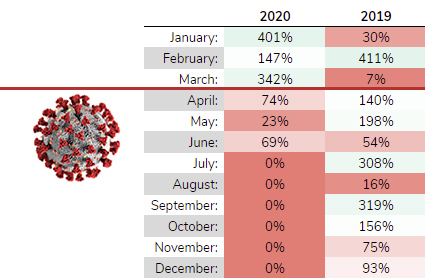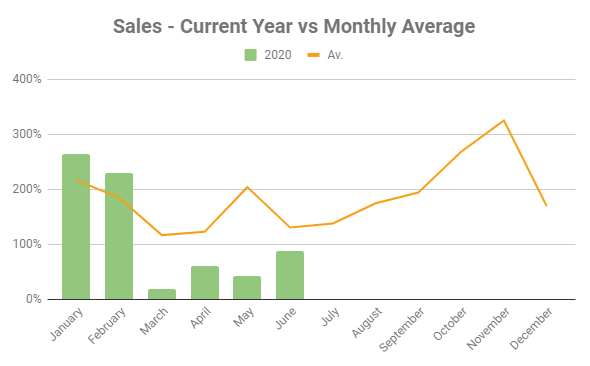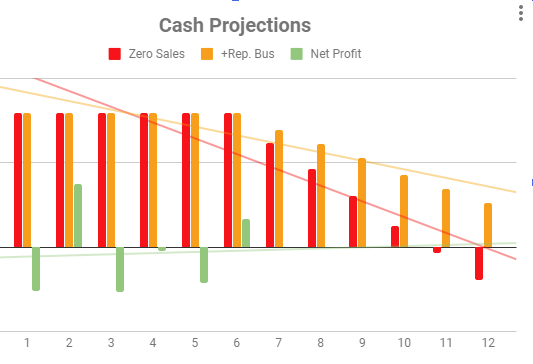 Customers
For the regular customers, it's been business as usual and these small, incremental sales have gone a long way in supporting the business and keeping it moving forward and saving me from worry. I thank you for your continued support. It's been greatly appreciated.
Looking forward
I can't predict the future. If I could go back in time to December of last year and describe 2020 as it happened, month by month, I wouldn't have believed myself, rather that my future self had completely lost the plot, yet here we are approaching mid year with with six more months to go.
Stay well and stay safe.
Mark Prosser.